Leonie Main - Therapeutic YogAlign Instructor, Reiki Master, EFT Facilitator, Life Coach, NLP Practitioner & Remote Healing Practitioner of the Bio-Energy Field & Consiousness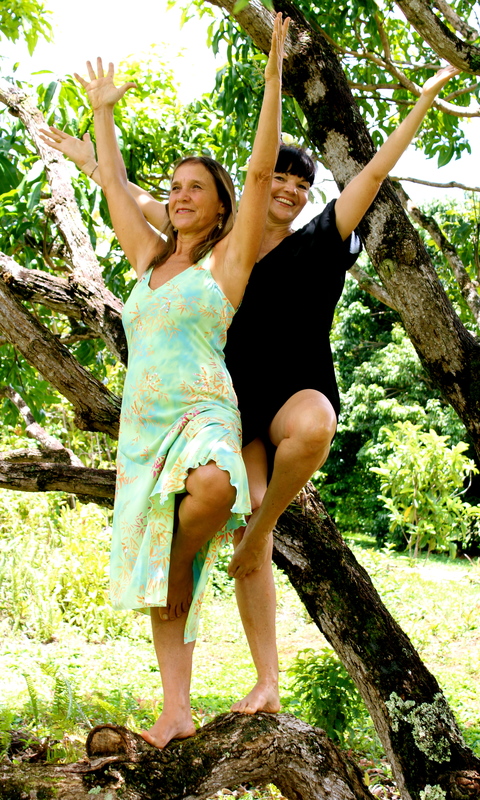 Michaelle Edwards & Leonie Main YogAlign Instructors Hawaii
I have always been interested in prevention and a holistic approach to wellness, and particularly aging with grace and harmony emotionally, mentally, physically and spiritually.
Nature helps to provide me with this balance, along with inspiration and energy, and I love my time near or in the ocean, skiing in the mountains and bush trekking. I will always enjoy travelling & exploring, and have been extremely blessed with so many acts of generosity, love and experiences from many corners of the world.   Travel is such a humbling and grounding experience that has changed my outlook on life forever.
My first experience with yoga was in the 1980's as a nursing student down at the Tauranga Yoga Centre. After a busy shift on the wards I came out of a class energized but relaxed, my mind at rest and craving a healthy meal.
Work, education and travel for me have been driven by my insatiable desire for growth and exploring people, cultures and nature. Also being open to ideas and theories, especially those related to well-being and I love considering all its possible realms.
My longest commitment to any one project was to that of creating a business here locally in Mount Maunganui with my sister, Mount Skin & Body. I learnt so much about myself, my wise and generous sister Delysse and all our wonderful clients, staff and suppliers. The women behind our two main products Dermalogica and Decleor were incredibly inspiring, strong and nurturing. I moved on from this business after nearly 10 years and left it in Kelly's talented, passionate and healing hands, and the business is continually evolving, moving from strength to strength. 
With the discovery of YogAlign several years ago, I have found a yoga method that completely resonates with myself and has given me a powerful tool for self-healing. Ever since I can remember I have had unique challenges, particularly with my flexibility. Now practicing YogAlign I am enjoying seeing the results of unlocking chronic tension, and moving with more ease and flow, improved posture, strength and energy levels. Prior to the physical gains I have made with YogAlign, I would never have dreamed of becoming a yoga teacher due to my very poor flexibility ;o)
YogAlign is a complete healing modality that integrates everything human beings need to heal – breath work, massage, fascial restructuring, neuromuscular re-patterning and the use of functional postures based on natural alignment of the spine and healthy, functional biomechanics.
Michaelle Edwards has created YogAlign as a safe and accessible path to wellness, increased energy and longevity that will benefit many.
The YogAlign system will help you develop the tools and self-reliance that exists within you, allowing your body to heal itself by supporting it with proper alignment, breathing, nutrition, self-awareness and self-love.
I am incredibly grateful to have discovered YogAlign and find it deeply rewarding empowering others to live well no matter what age and fitness level.
Thank you for taking the time in your search of discovering your optimal wellness.
Here Are Some Of My Wellness Qualifications:
Certified Remote Healing Practitioner of the Bio-Energy Field for the purposes of restoring health & expanding consciousness. Trained with the Neo-Shamanic Society & Christof Melchizedek
Life Coach & NLP Practitioner - Calvin Coyles, WILD Success
Emotional Freedom Technique (EFT) Facilitator
Kundalini Reiki Master, Attunements 1, 2 & Masters, Bali
10 day Continued YogAlign Teacher Training, Umbria, Italy – Yoga Alliance Accredited
Kauai Yoga School RYS 200 YogAlign Teacher Training, Kauai, Hawaii - Yoga Alliance Accredited
Usui Reiki First Degree & Second Degree, New Zealand
Kailas School of Yoga & Ayurvedic Massage, McLeod Ganj, India
Relaxation Massage Therapist NZQA, New Zealand
Registered General & Obstetric Nurse, New Zealand 
Enrolled Nurse, Training New Zealand